Ready, Set, Glow!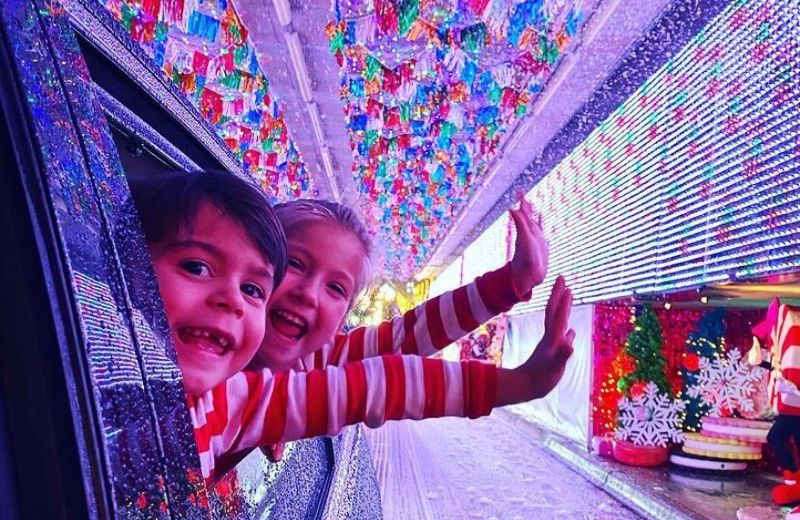 Nov 26 - Dec 26
Experience a mile of immersive holiday displays, millions of lights, live dancing elves, a walking plaza full of food and activities, and more. Only at Circuit of The Americas.
"Best holiday event!"
Austin Monthly
Ticket
Packages
Customize your Peppermint Parkway experience with one of 4 ticket packages. Regardless of which package you choose, all guests are invited to explore the activities, games and food at Peppermint Plaza before or after your drive!
For standard admission, vehicles must be 27 feet or less in length. Vehicles larger than an SUV that hold more than 8 people must purchase two tickets.
Charity Nights
'Tis the season of giving, and this year we are supporting I Live Here I Give Here™ and Amplify Austin. For 20 nights we will promote Amplify Austin, and give back to 20 cause categories ranging from animal care to literacy to human rights causes. As our sole non-profit beneficiary, charitable contributions will go directly to supporting almost 700 local non-profits.
Wednesday, December 1
Human Services
Thursday, December 2
LGBTQIA+
Friday, December 3
Seniors
Saturday, December 4
Environment, Conservation & Sustainability
Sunday, December 5
Poverty
Monday, December 6
Military Monday, Military & Veterans
Tuesday, December 7
Public Safety Night; Public Safety, Disaster Relief & Emergency Response
Wednesday, December 8
Medical/First Responder Night; Health Care & Wellness
Thursday, December 9
Teacher & Educators Night, Education & Literacy
Friday, December 10
Human Rights, Civil Rights & Advocacy
Saturday, December 11
Arts & Culture
Sunday, December 12
Housing, Shelter, & Homelessness
Monday, December 13
Military Monday, Military & Veterans
Tuesday, December 14
Sports & Recreation
Wednesday, December 15
Civic Engagement, Philanthropy & Volunteerism
Thursday, December 16
Religion, Faith, & Spirituality
Friday, December 17
Basic Needs
Saturday, December 18
Racial Equity
Sunday, December 19
Youth & Children
Monday, December 20
Military Monday, Military & Veterans
Tuesday, December 21
Pups at The Parkway, Animal Care & Services
Wednesday, December 22
Public Media
Activities
Fa-La-La in love with Peppermint Plaza! Visit before or after your trip down Peppermint Parkway to meet Santa, race at COTA Karting, enjoy amusement park rides, grab a bite, and sing holiday carols!
Peppermint Plaza
North Pole Palooza
See the big guy himself, performing in a full stage production with music, dancers, a reading of Twas the Night Before Christmas, and a spectacular snow-filled finale! Catch North Pole Palooza three times a night, at 7, 8 and 9pm. *Schedule subject to change.
Letters to Santa
Make your wishlist, remind Santa that you're on the nice list, and mail your letters to the big guy!
Mistletoe Kissing Booth
Visiting with a special someone? Make sure to visit this mistle-totally sweet stop on your tour of the Plaza.
Pepper & Mint Live
Share hugs, high-fives and snap an "elfie" with the sweetest mascots around, Pepper & Mint!
Peppermint Express
All aboard! Climb on for a festive ride on our very own holiday express train.
Amusement Rides
Looking for some holiday thrills? The Plaza's amusement rides are a ho-ho-home-run.
Delectable Treats
Treat yo' elf! Grab a bite and a warm mug of cheer from a variety of scrumptious food vendors. There's s'more to enjoy than milk and cookies!
Holiday Carols
Sing-along to your favorite carols and groove to holiday jingles on the Plaza!
Dazzling Lights
Enjoy a winter wonderland of over seven million twinkling lights, in displays specially designed to amp up your holiday cheer.
COTA Karting
Come and race it! Take on this mile long outdoor track in karts that reach speeds of up to 55mph.
The Soaring Eagle
Soar through the air and see The Parkway from above on the COTA Zipline!
Routes
Thank you 2021 sponsors!
FAQ
Where is Peppermint Parkway located?
Peppermint Parkway is located at Circuit of The Americas in Austin, TX. The address is 9201 Circuit of the Americas Blvd, Austin, TX 78617.
How long does it take to go through The Parkway?
Approximately 15 minutes.
What is the wait time?
During peak hours, wait times can last between 45-65 minutes. To avoid the rush, come early right at 6:30pm or purchase a Twilight Ticket for entry between 8:30-9:30 pm. Twilight Tickets are $5 less than the standard ticket. Traditionally, this is the time when The Parkway has minimal wait.
Do you need to buy tickets in advance?
Online tickets are encouraged, but you can purchase tickets at the gate on days when we are not sold out.
If I am buying on-site, do you take cash and card?
We are a cashless facility. COTA accepts Discover®, MasterCard®, and VISA®.

What if it rains?
If we have to close due to weather, we will notify attendees via social media. In addition, you will receive instructions via email on how you can redeem your admission for a future date.
Can we stop and take photos?
Yes, photos are allowed from inside your vehicle on The Parkway and from inside Peppermint Plaza.
Can we bring our dog?
Yes, dogs are allowed if they stay inside your vehicle during your drive on The Parkway!
Are restrooms available?
Restrooms are available for emergencies at our ticketing tent and in Lot A as well as Peppermint Plaza. Ask a traffic attendant or ticket scanner for assistance.
Is there food and beverages available?
We have popcorn, cotton candy, holiday cookies and bottled water for sale upon arrival and plenty of different food options available in Peppermint Plaza.
Can I add a fast pass or track lap onsite?
Yes, you will be able to add these at the gate.
Do you have ADA Information available?
Peppermint Parkway is a drive-thru experience, allowing guests to stay in their cars for the duration of the event. If you need ADA assistance while in Peppermint Plaza, please email ADA@thecircuit.com prior to your arrival.
What are the event hours?
The Parkway is open from 6:30-9:30pm with Peppermint Plaza open from 5:30pm-10:30pm. All aspects of the event are weather permitting. Schedule is subject to change.
How does the Candy Cane Cruise track lap work?
You'll enter The Parkway with everyone and follow signs into the COTA Paddock where you will stage on the grid of the track. The track is a 3.41 mile purpose-built F1 track that has been used for Formula 1, NASCAR, MotoGP and many other racing series over the years. You'll line up in groups and follow a lead car onto the track at 25 MPH to experience COTA's signature 20 turns just like many world champions have before you.